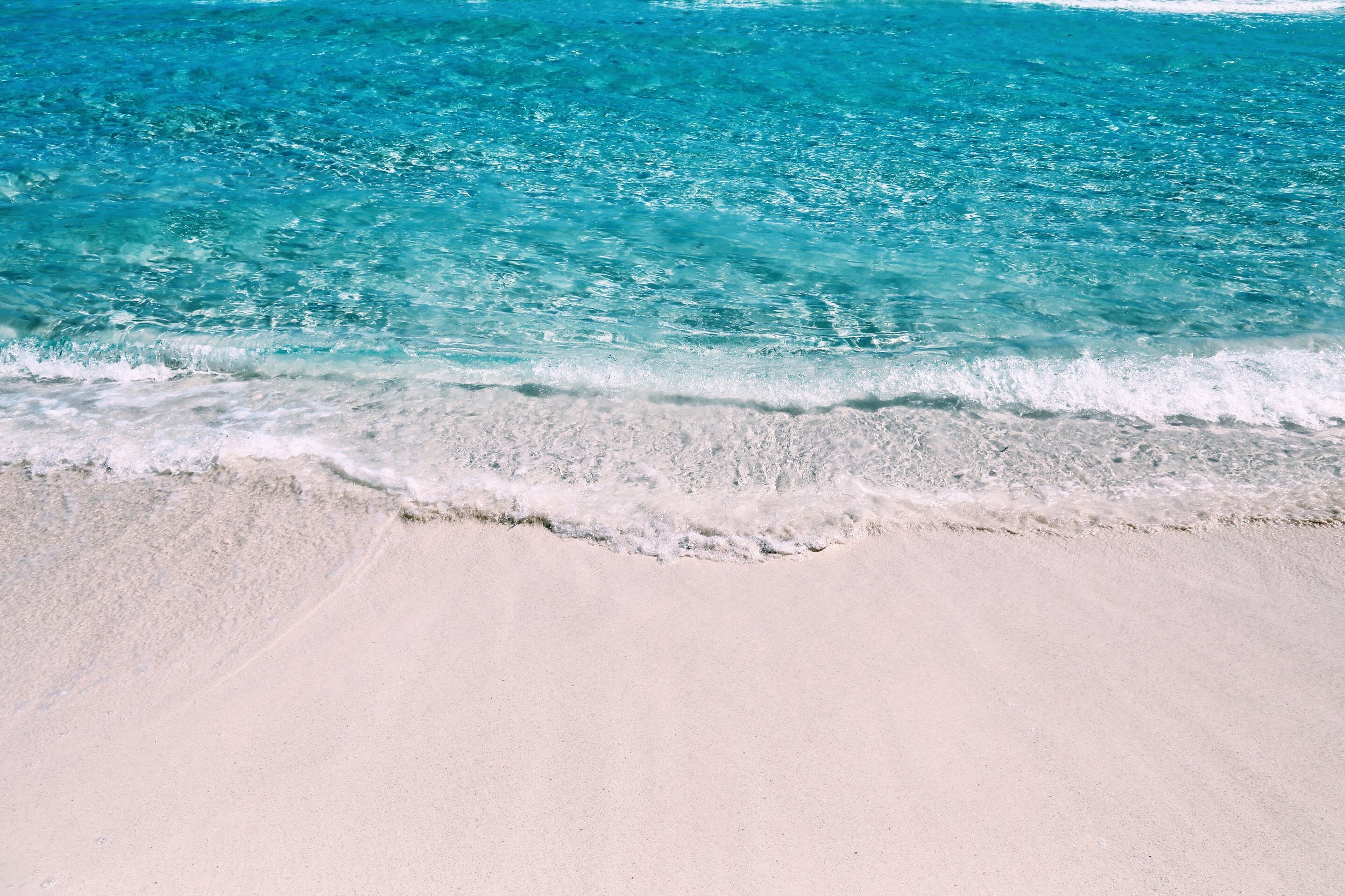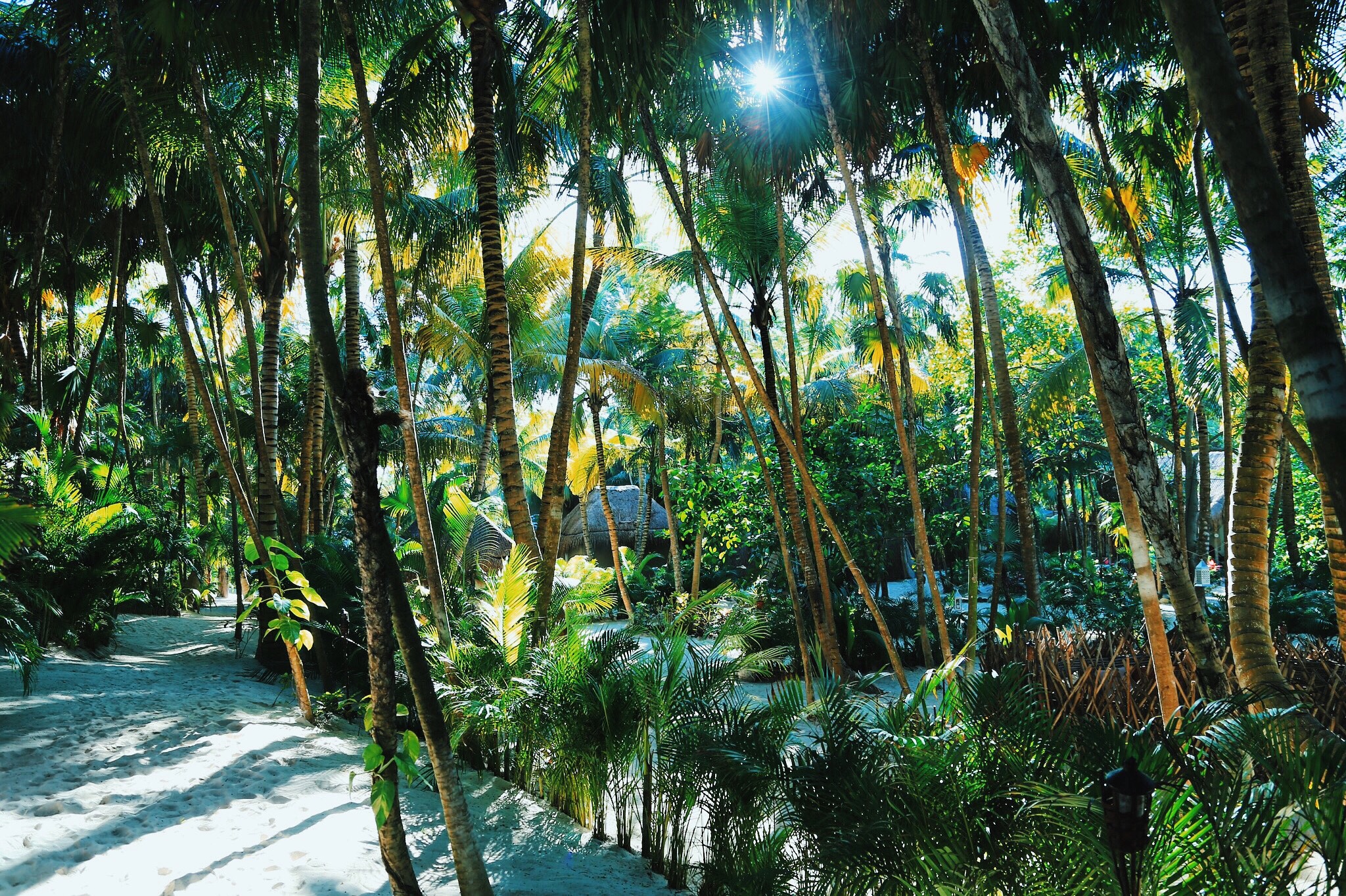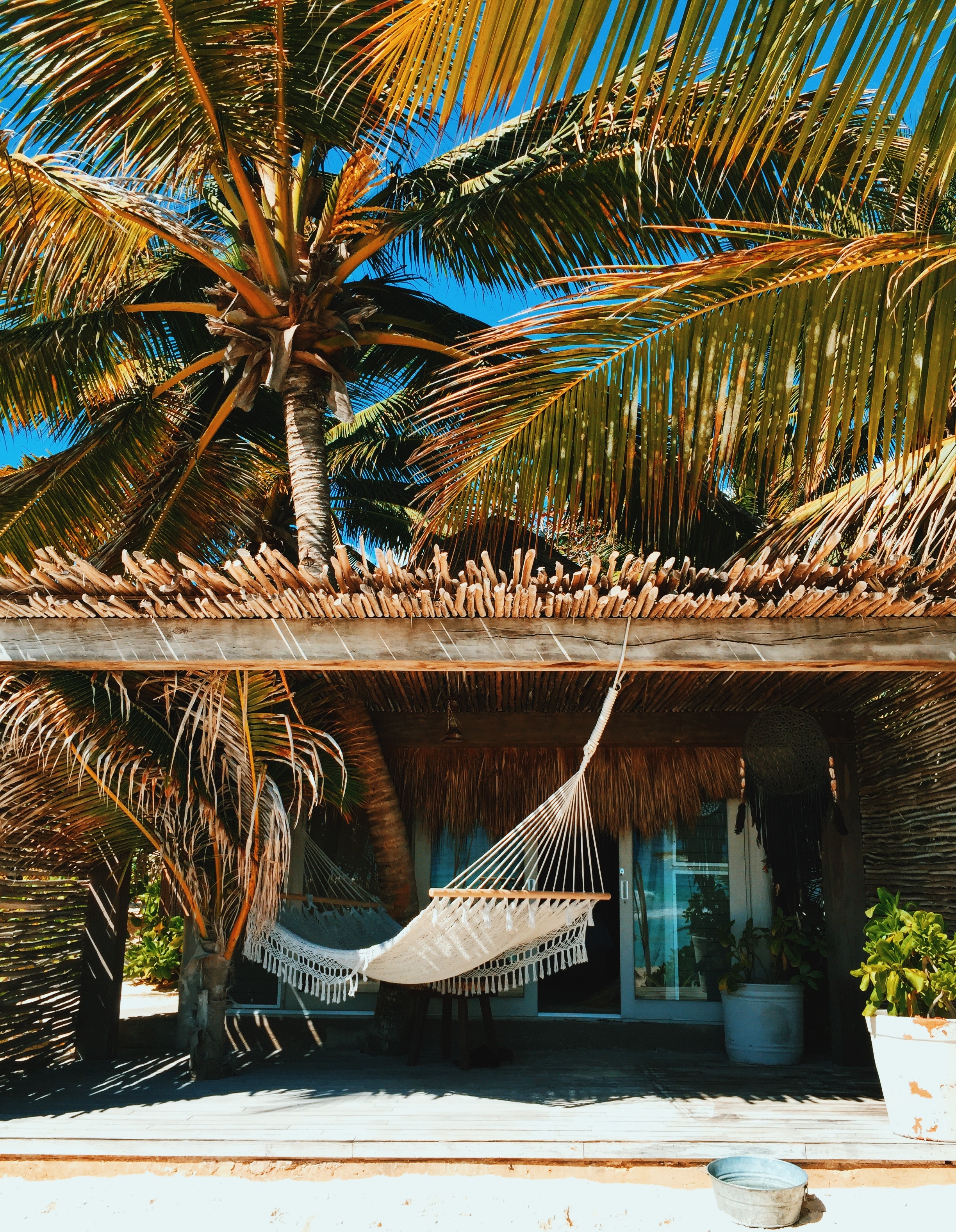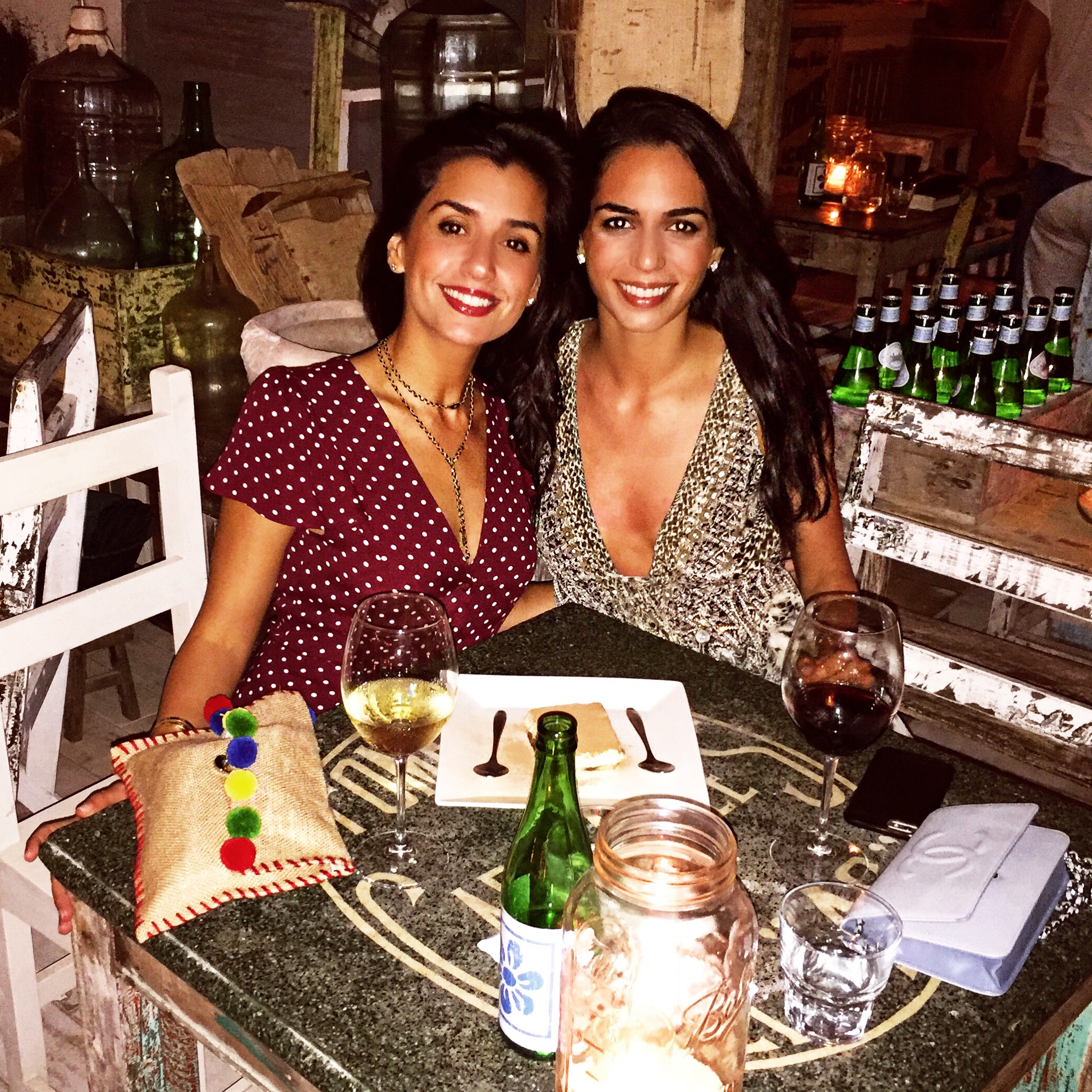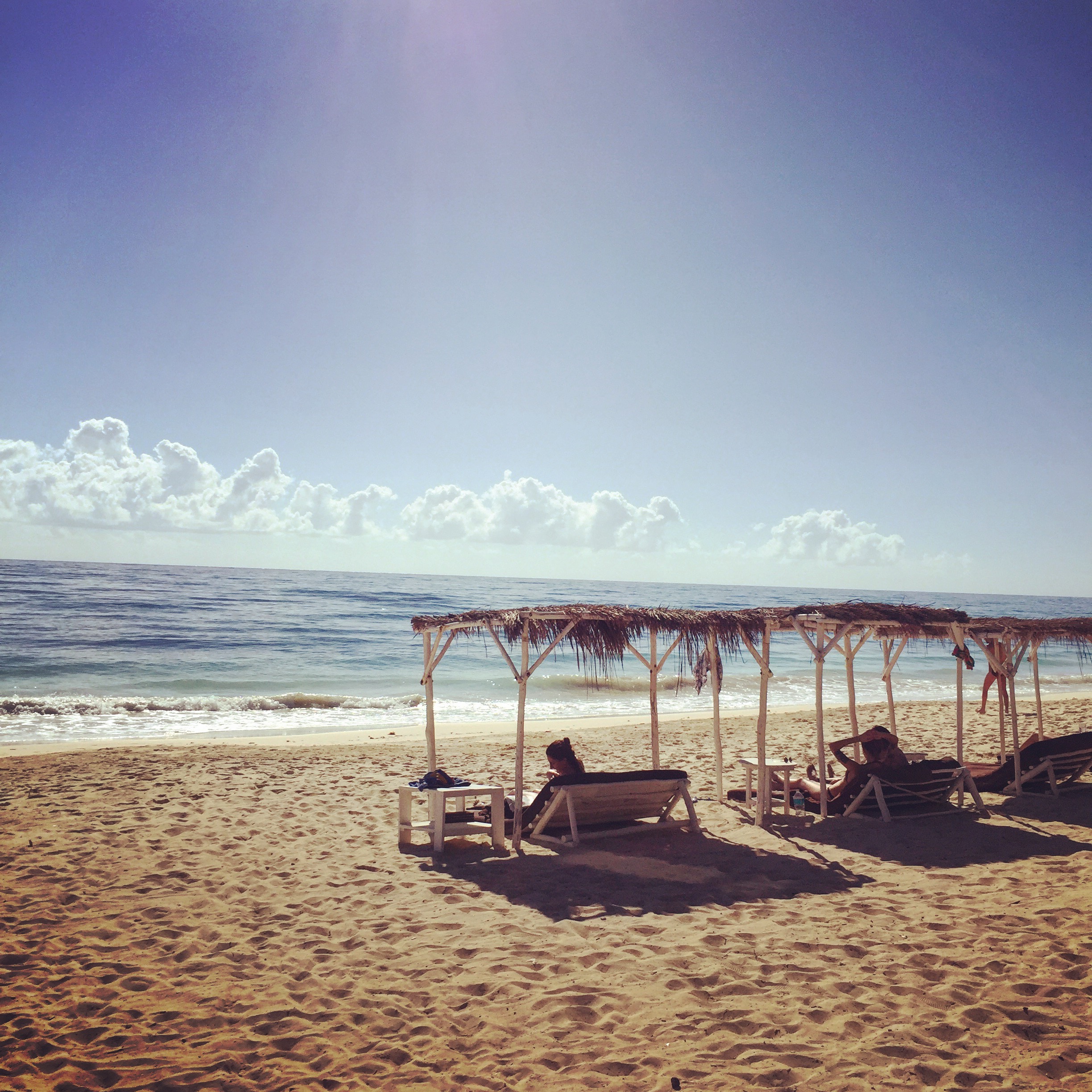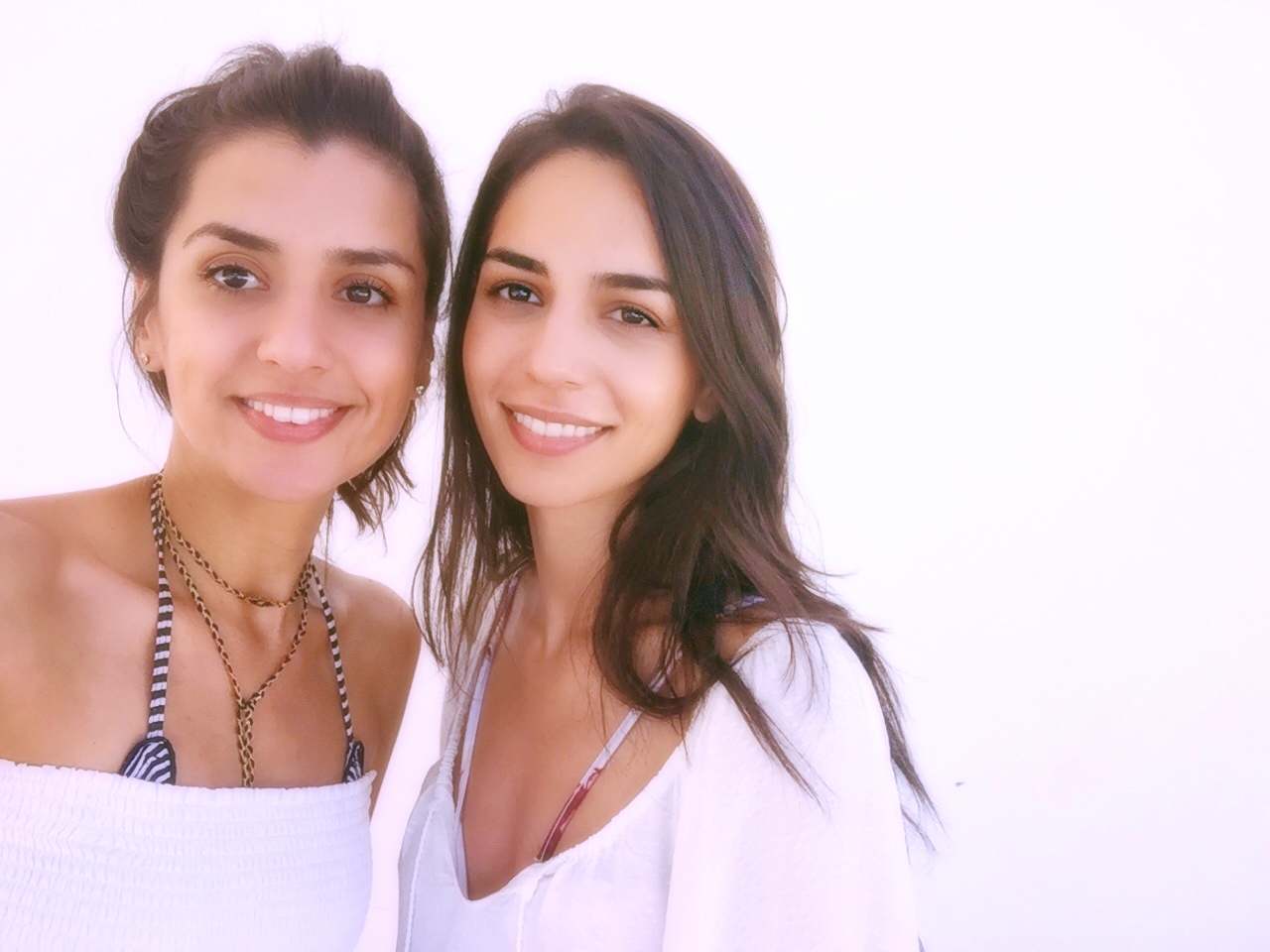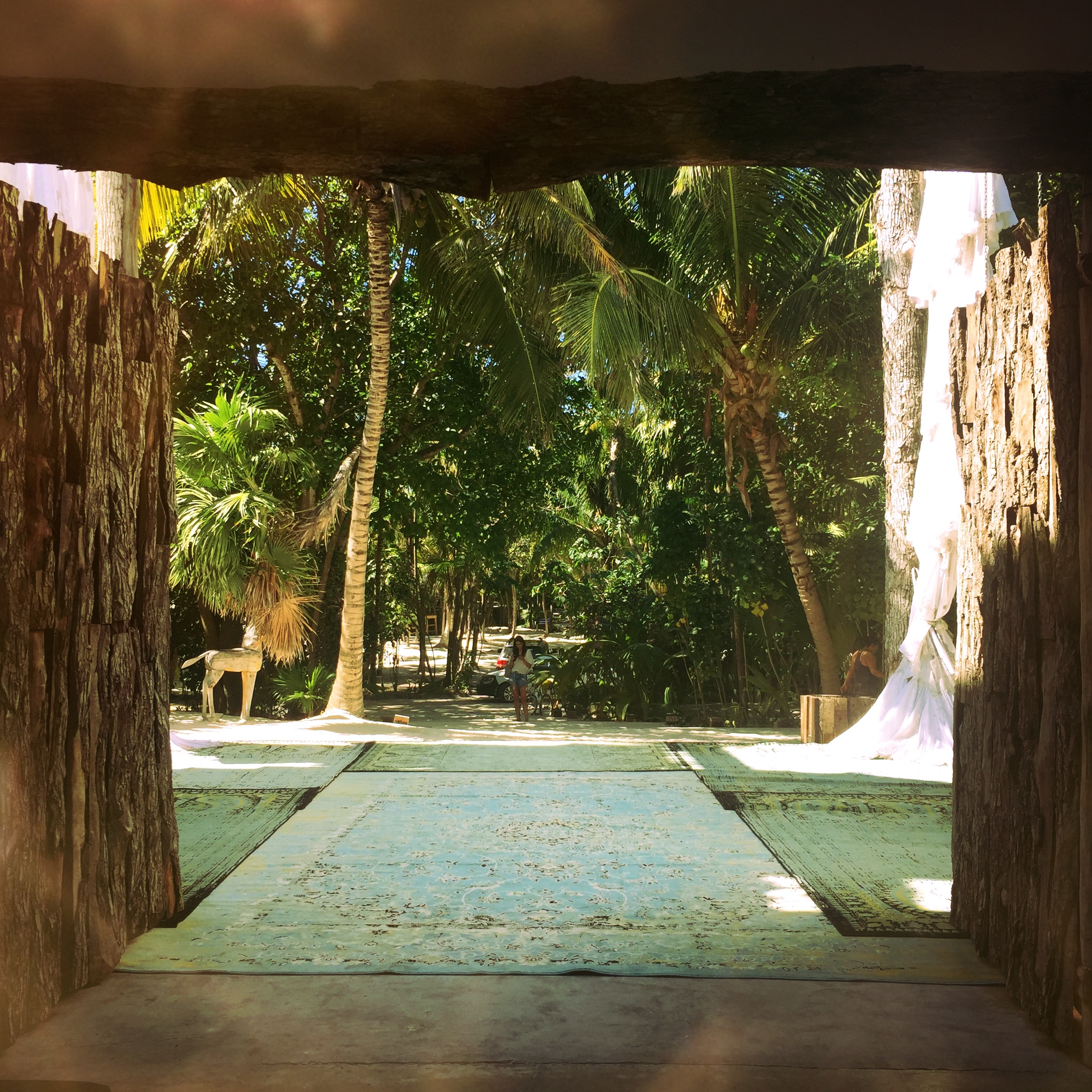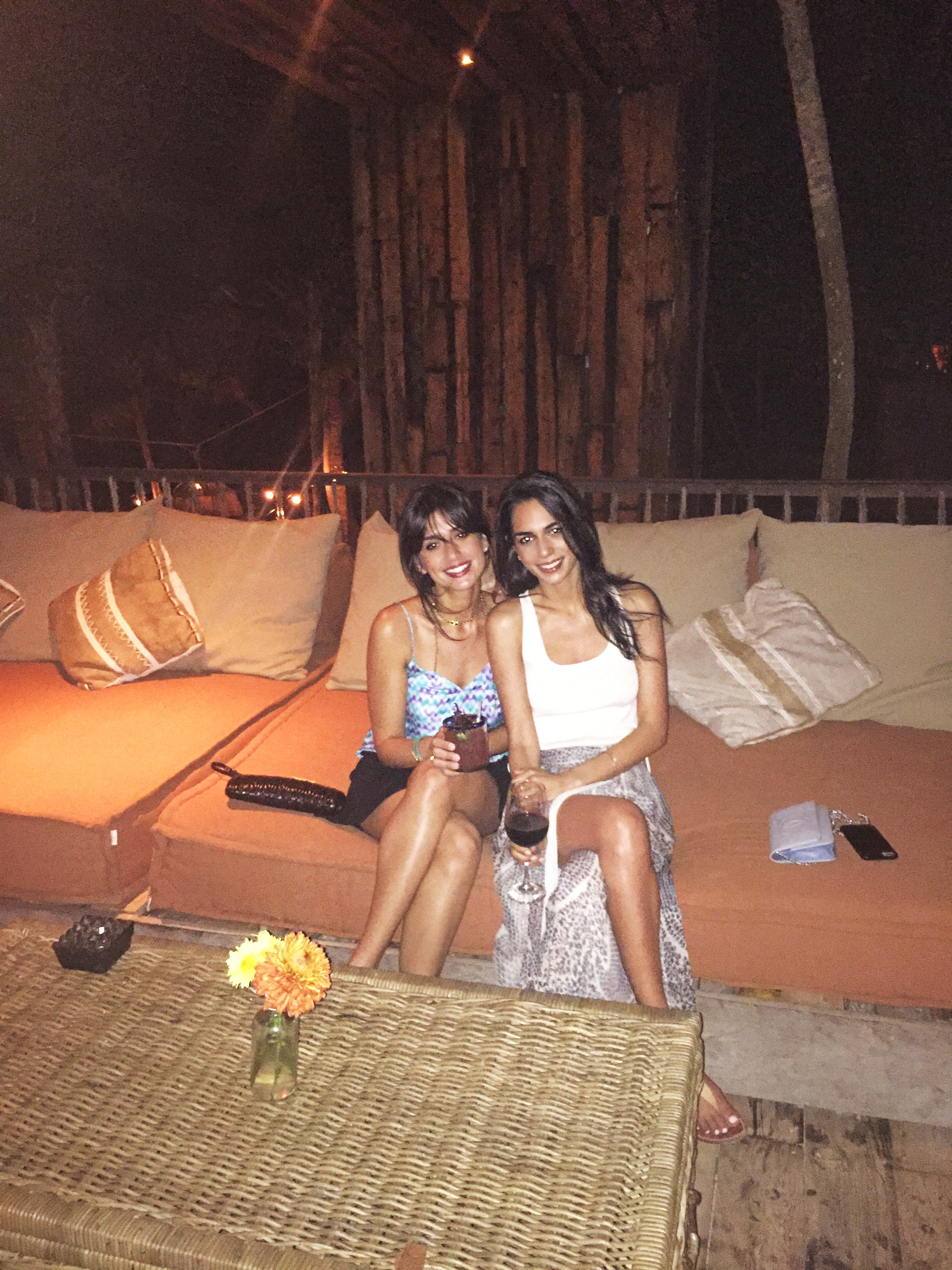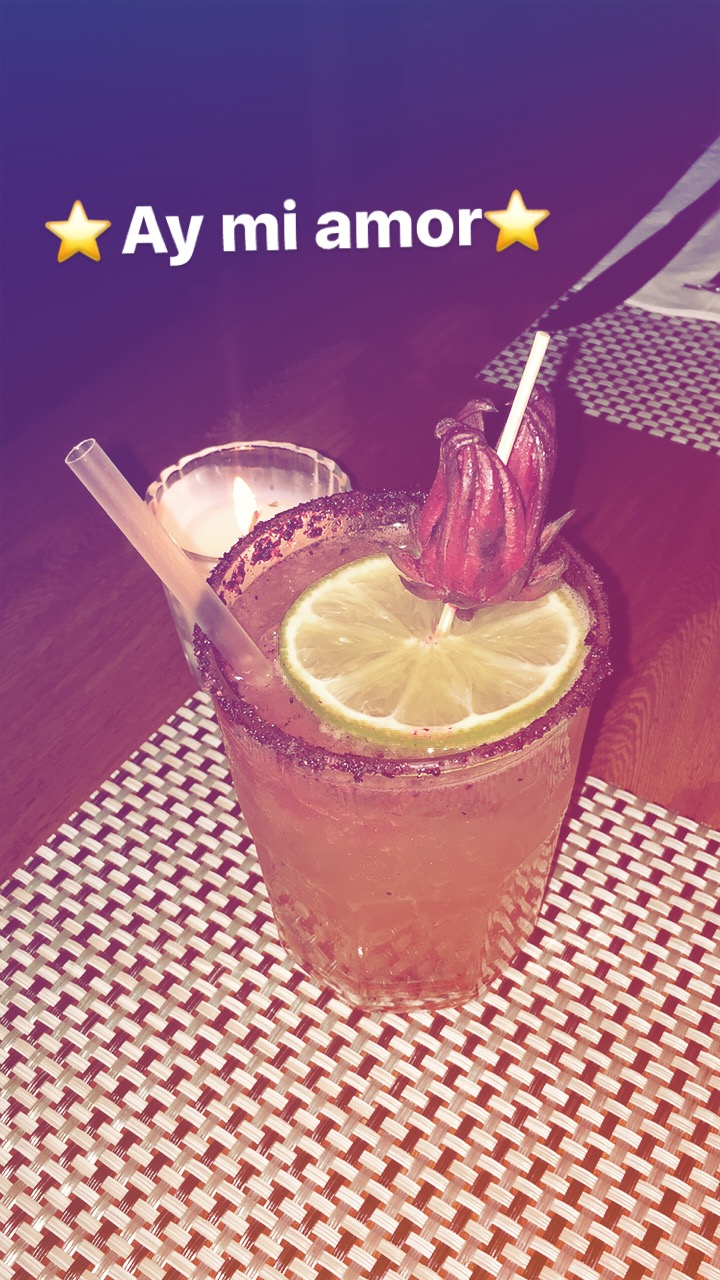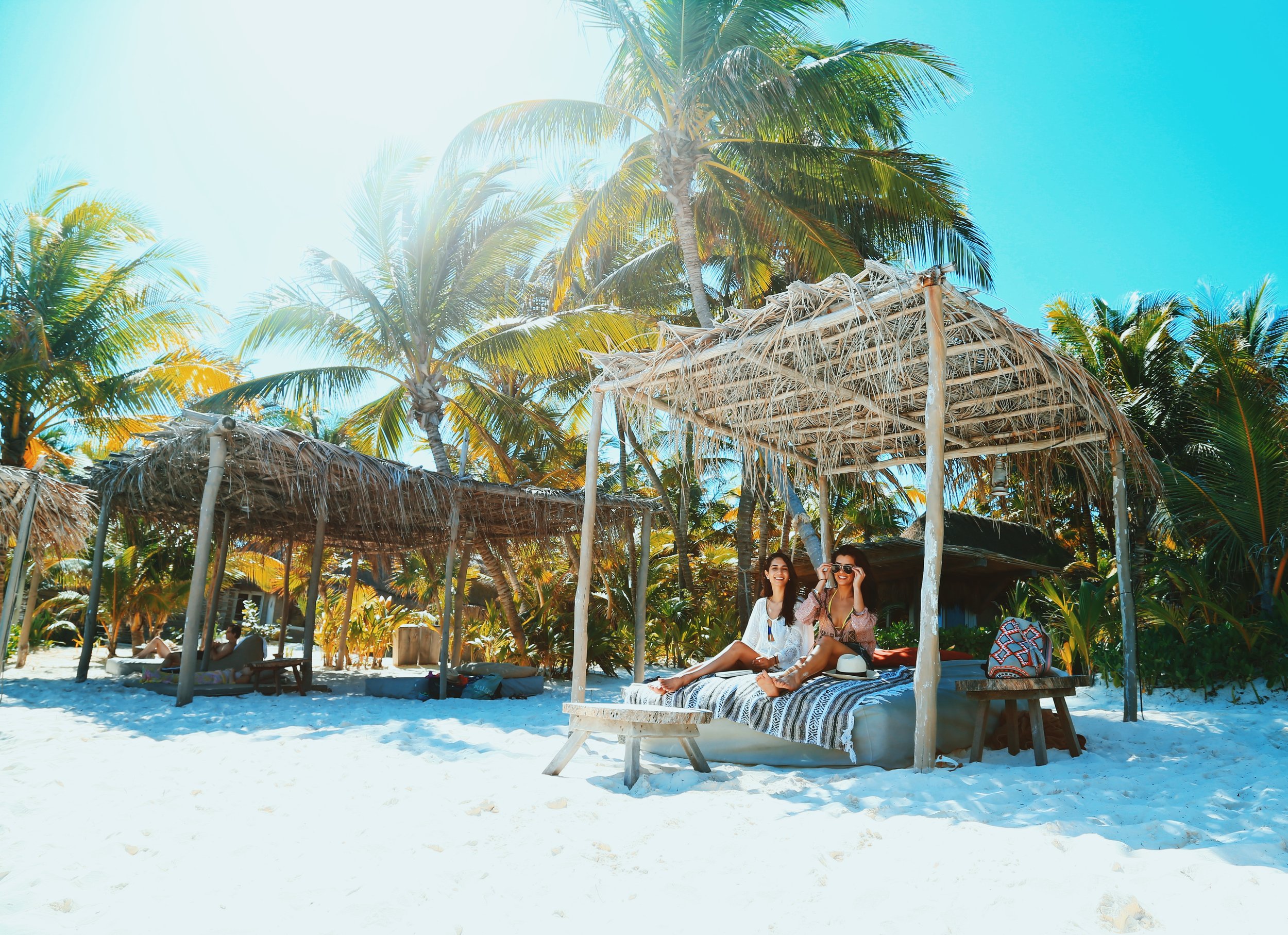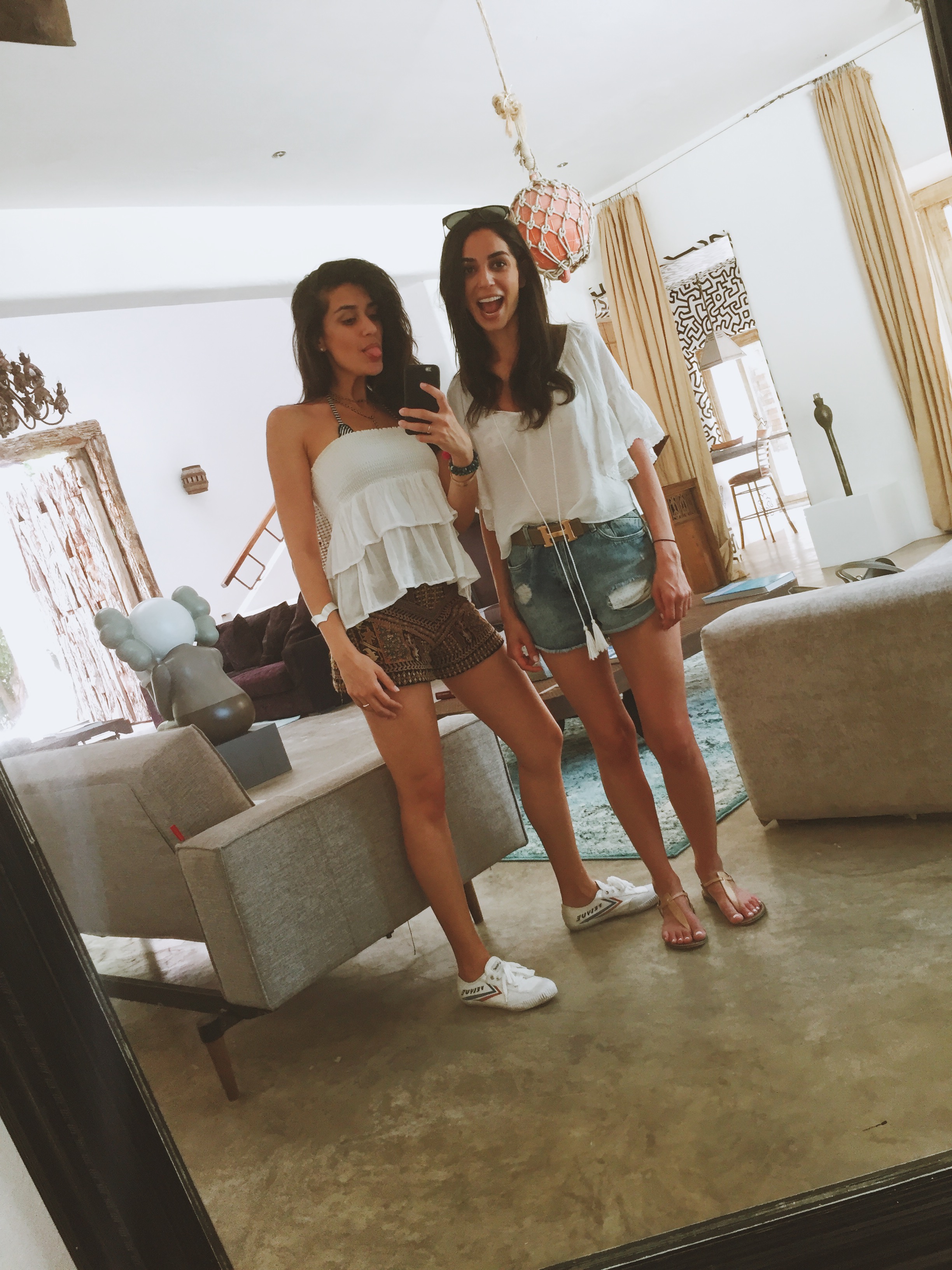 Tulum, Mexico has quickly become one of my favorite beach destinations. I booked a last-minute Thursday-Sunday trip this January. I immediately fell in love with the laid-back hippie vibe of the town. The visitors are a mix of the fashion crowd, yogis, new agers, Europeans, and South Americans. The beach is stunning, the food is authentic and spicy, and the Mayan ruins are there. This eco-friendly town has a reputation for being a low-key beach vacation. The opposite of it's neighboring mega-resort towns Cancun and Riviera Maya...for now? Tulum's main road (about 6 miles) runs all the way down the beach and is fairly walkable. Taxis are easy to come by and accept both USD and Mexican Pesos. Sorry amigos, no credit cards. Quick tip: most places are cash only.
We arrived to our hotel Thursday just as the sun was setting. Our casita aka room had a pool on the roof. We took our private flight of stairs up to our roof and saw the tree-tops among a gorgeous pink sky. This was breathtaking! Shortly after we realized we locked ourselves out of our room. Thankfully our neighbors, a group of girls, were on their roof as well. One of them came over and I threw down our room key. She came around and let us back in. She had come all the way from Paris with her friends. Merci to her for saving us!
I really started to soak in my surroundings. The sun rises and glistens like a magical yellow brick road over the turquoise sea. I look around and see a man doing a sun salutation. A group of three middle-aged American women sitting at breakfast with their iPads out discussing politics, yoga, and their lunch plans while smoking cigarettes. A little girl, completely naked, holding her topless mother's hand running towards the sea. A young man with dreadlocks selling necklaces. A mother and father who look like a modern day Serge and Jane swinging their 3-year-old son in a hammock. A group of 30 somethings are sitting by the beach, probably since the night before. A younger couple speaking Portuguese who appear to be their honeymoon. The birds are singing and the sound of the waves crashing are constant. Life is beautiful in Tulum. Usually around noon, house music will start to play in the background. Your mind quickly drifts away into a series of thoughts. This pre-Columbian town has become the stomping grounds of the BPM Festival each year, but remember not to ruin the surprise! Telling too many people could spoil everything! At least that's what they say among themselves. But hey, Capri is still Capri. It is what you make of it. If you are a true Tulumer, then you must be open to all with loving arms...Right? Just make sure you bring #goodvibes only.
I was able to squeeze in enough time to check out a few of my friends recommendations, site-see, get a spa appointment, attend a Full Moon party at Papaya Playa Project, and visit some of the boutique beach front hotels. See my quick guide on Tulum below.
HOTELS
DINING
Good to know: most bars and restaurants are cash only. You can usually find an ATM close by.
An authentic Argentine perspective: fresh ingredients, a passion for good food, a developed mixology program, all in an environment where everyone is considered a friend. Founders Daniel and Santiago used what is now the outdoor patio to gather with friends and do what they do best - grill steaks, the Argentine way. In addition to their staples, like their grilled steak and homemade chorizo, their mixology program has drawn a crowd of it's own. From classic favorites like an Old Fashioned to mezcal and tequila cocktails, you'll be hard pressed to skip over their drink menu.
Tulum's most famous Italian number, Posada Margherita, is situated within a beachside hotel. To fully soak in the unobstructed ocean view, try dropping by before sunset — whether for lunch or an early dinner. Posada has a great assortment of focaccias, served with Parmesan chunks and pickled cauliflower. Save room for their homemade pasta.
If you've heard of one restaurant in Tulum, chances are it's Hartwood. American chef and owner Eric Werner clocked hours at New York City restaurants Peasant and Vinegar Hill House prior to opening this earthy, wood-fired shrine to the flavors of Mexico with Mya Henry. It's has commanded long lines since its debut in 2010 -- But in the last few months, the restaurant has stepped up its reservation game, and now fish fans can secure a via email — if there's room, of course. Every night, Hartwood displays a chalkboard that lists the evening's dishes, most of which involve locally-caught seafood, either simply grilled or prepared as ceviche, plus beef and local vegetables. Remember, there's only solar power here, which explains Werner's grill-centric approach to cooking.
*We were unable to secure a reservation or table at Hartwood until our last night. The hostess the first two nights was unfriendly and inconsiderate to guests, including us. She told us to wait and after waiting for one hour (she kept telling us, yes I can probably seat you just wait) she happily told us that she could not seat us! It was almost 10pm at the point. Many people who had been waiting were frustrated as well. The energy was no bueno. What's so good about this place anyways?? I was completely turned off by Hartwood. Finally, on our last day my friend convinced me to try again. Our last night, there was another host at the entrance (ah, maybe we have a chance!), he kindly put our name down and we were finally seated by 9:30. After all of that, I prefer Casa Banana and Posada Margherita over Hartwood any day. Buh-bye :)
If you're looking for a night out defined by pretty people and creative cocktails, Gitano is it. The lush outdoor lounge takes on a magic feel with its canopy of twinkling lights, making it the ideal locale to see and be seen. Sure, there's a full menu of fresh, modern Mexican plates like basil guacamole and truffle mushroom tacos, but what you're really here for is the bar's fruit-forward cocktails — most of which incorporate Mexico's signature smoky spirit, mezcal. There's no shortage of local flavor from Kisses in the Car with mezcal, passion fruit, tangerine, and habanero or in the the house mojito remixed with mezcal, rum, hibiscus, and mint.
Rustic wood-fired proteins and veggies, along with ceviches and salads, are the name of the game at Casa Jaguar, a restaurant and bar with a jungle feel. Another bohemian-chic number, Casa Jaguar is prime grounds for pre- or post-dinner drinks. Just grab a stool and one of the house-special cocktails, or choose your own adventures simply by selecting ingredients readily displayed on the bar.Looking for more drinking action? Beat the beach and head into town, where Casa Jaguar management opened a newer bar, Todos Santos, which also offers an excellent selection of fresh fruit, mezcal-laced tipples. Seat yourself at the dimly-lit bar fading away under a cloud of burning palo santo, knock back one of the many mezcals behind the bar, or pick a drink flavored with coconut, guanabana, or mango.
While Restaurare is aimed at those looking to avoid animal products, it's worth a stop for even the most devout carnivore. Here, Mexican staples — in addition to a few globally-influenced dishes — are made with sustainably farmed, plant-based ingredients. For example, the outdoor eatery's take on mole includes local pumpkin and mushrooms beneath the classic chocolate-laced sauce, while its refashioned pibil taco involves spiced soy protein with peppers and bitter orange. There's also curry, tofu, and spiralized carrots "noodles" in a tropical take on alfredo.
Before opening Simple in 2012, Mexico City's Richy Zapata cooked at Arzak, the legendary three Michelin-starred restaurant in Spain's Basque region. But here in Tulum, the chef is taking a less complicated approach, as the open-air restaurant's name suggests, highlighting seafood and local produce with a global-Mexican flare. There's veggie tempura, soft shell crab toast, and a mellow cocktail bar with mezcal at the ready.
Arca chefs are Maya and Fausto, who worked for famous Mexican chefs Benito Molina from Manzanilla in Baja California and Enrique Olvera from Pujol in Mexico City and Cosme in NYC's Flatiron District. The food at Acra is a unique style of Mexican cuisine. Inspired by Chef Maya's childhood in Mexico and cooking career in San Fransico, the menu reflects many traits of classic California Cuisine, using local, seasonal produce with a farm-to-table philosophy. The menu features produce from local beaches, gardens and farms, all found at their peak, lovingly prepared with modern cooking techniques and a contemporary global sensibility.
ACTIVITIES
Rent Bikes

Visit the Tulum Ruins, Coba (Yucatán's tallest pyramid), Chichen Itza Ruins, or the Grand Cenote

Visit Sian Ka'an Reserve

Yoga by the beach or at the Sanara hotel

Relax at Tulum Beach or Xpu-Ha Beach

Check out the local shops

Book an appointment at a spa

Attend a Papaya Playa Project Full Moon Party
MAP
ESPAÑOL
Hello ~ Hola
Goodbye ~ Adiós
Good morning ~ Buenos Días
Good night ~ Buenas noches
Thank you ~ Gracias
Please ~ Por favor
Check please ~ La cuenta por favor
Where is the restroom? ~ Donde esta el baño?
What is the wifi password? ~ ¿Cuál es la contraseña wifi?
Towels ~ Toallas
Do you accept credit cards? ~ Aceptas tarjeta de credito?
Please comment any recommendations below!